Welk behang past in welke kamer?
Zie je een ontwerp om bij de watertanden?
"Maar waar past deze dan in mijn huis?"
Dé vraag die we heel vaak krijgen.
En het meest gegeven antwoord is dan: "Overal"!
Een mooi voorbeeld is ons Rainforest behang. Het design spreekt tot de verbeelding voor elke kamer en past bij veel verschillende sferen in huis. Sommige items in het design zijn groot en dit kan heel goed in zowel grote als kleine ruimtes tot zijn recht komen. We hebben jungle en oerwoud behang in verschillende designs waarin we werken met verschillende soorten bomen, planten en dieren. Dus kies je favoriete design en laat je fantasie stromen, dat is wat we willen en ook zelf het liefste doen!
Bekijk hier het resultaat van het gebruik van dit ontwerp voor een gezellig zithoekje:
Woon- of zitkamer
Met styliste Kim Timmerman hebben we als voorbeeld deze zithoek in een woonkamer gecreëerd. Een heerlijk hoekje waar je een tijdschrift gaat lezen met een koffie, thee of drankje.  
Kim: "Dit veldbed heb ik al heel lang geleden een keer gezien bij Cin In Wonen. Ik wilde het al zo lang ergens voor gebruiken en toen zag ik dit behang! A perfect match! Een veldbed met veel planten en kussens en een camera erbij; Je waant je in het regenwoud ergens in Costa Rica. De natuurlijke tinten van het behang komen terug in de set. Dit behang is voor mij echt de grote favoriet, ik houd van deze kleuren, maar ook van het gevoel dat het regenwoud met zich meebrengt! De hitte met schaduwrijke plekken en alle geluiden die erbij horen…..'.
De jungle sfeer wordt doorgevoerd met het sisal kleed, de houten items en verschillende planten. De groene accessoires maken het compleet. Het veldbed en het kleine metalen tafeltje zijn van Cin in Wonen. De plaid, kussens en vazen van Mrs. Bloom (kijk voor veel inspiratie in hun lookbook). De okergele kussens komen van Atelier Sem.
Wees niet bang voor het spelen met je lievelingskleuren! Hier hebben we geel als extra kleur gebruikt, maar er zijn veel kleuren in het design die je in de accessoires kan laten terugkomen; het bruin en oranje van de luipaard of het rood en zelfs blauw van de toekan.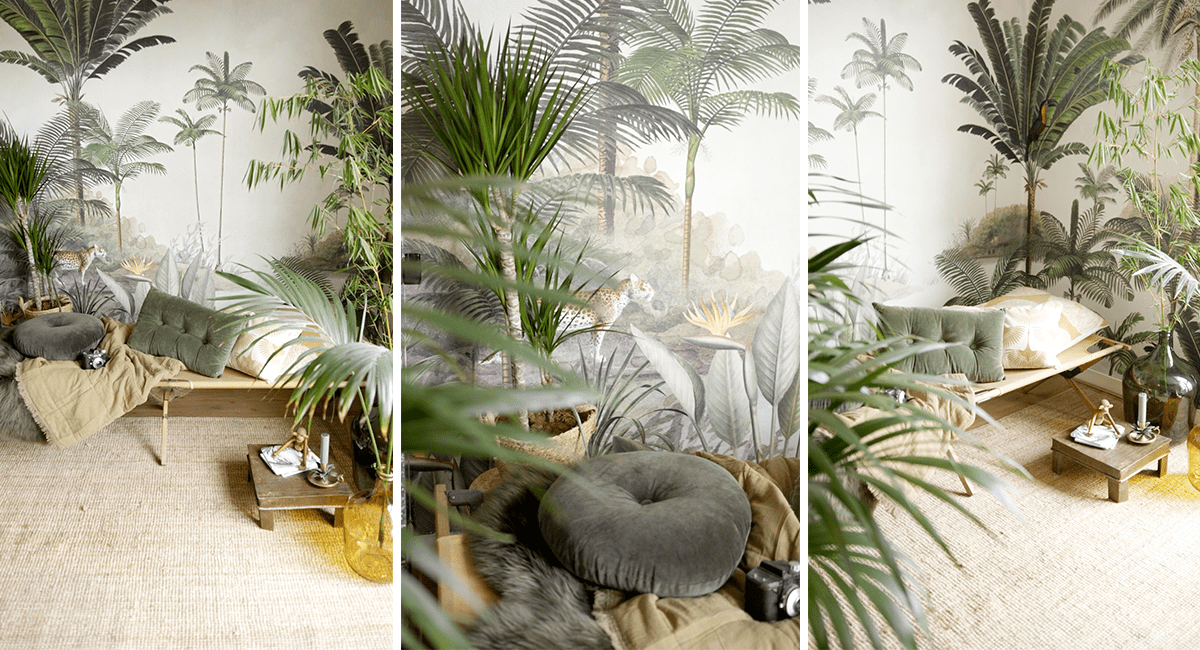 Slaapkamer
De oerwoud afbeeldingen op dit behang misstaan ook zeker niet in een slaapkamer! Vooral in de kinderkamers zien we het vaak terugkomen en het is ook geweldig in een master bedroom of logeerkamer. Kinderen vinden het heel erg leuk om in hun kamer de verschillende dieren te kunnen bewonderen. Ze bedenken hier vaak hele verhalen bij en ze leren ook hoe bepaalde dieren eruitzien.
Een hele muurafbeelding kan op maat aangeleverd worden door Creative Lab Amsterdam, geheel aangepast aan de afmetingen, rekening houdend met eventueel schuine muren of het meubilair dat tegen de muur komt te staan. Ook een mogelijkheid is het plaatsen van een behangcirkel op de muur. Voor een mural kies je als de afmeting van de muur in één van de drie standaardmaten past en er geen bijzonderheden zijn, zoals een deur, schuine wand of meubels tegen de wand waar we rekening mee moeten houden. De hoogte van de mural is altijd 280cm hoog en de breedtes zijn 194,80cm, 292,20 cm of 389,60cm.
Een behangcirkel is er in drie maten: een diameter van 95, 120 of 142,5 centimeter.Zo kan de cirkel boven een commode, bed of bureau precies goed uitkomen.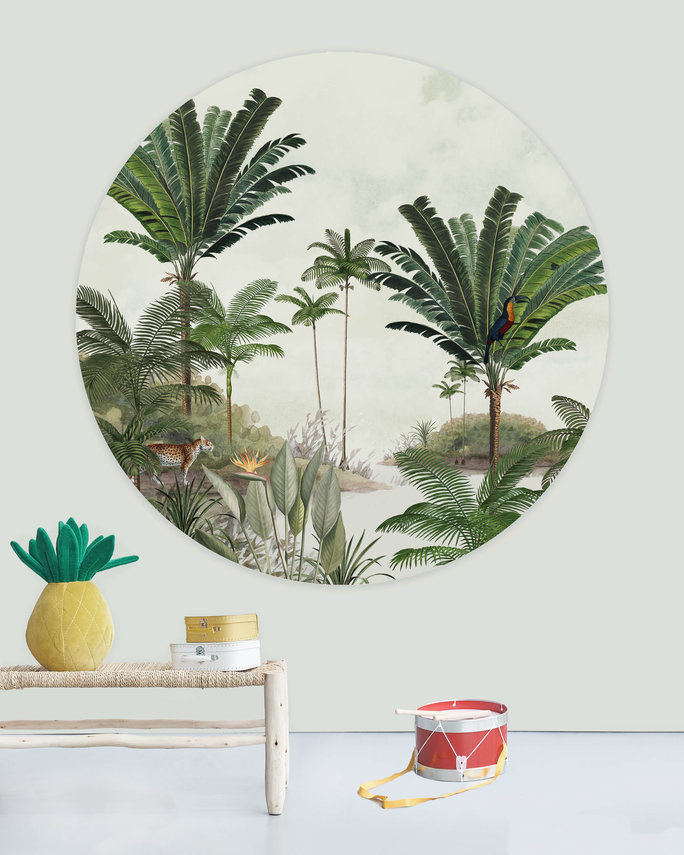 Badkamer behang
De ontwerpen van Creative Lab Amsterdam zijn gebaseerd op gevoel en emoties, we willen dat ze blijdschap en energie geven. Uitkijkend op het patroon Rainforest waan je je vanuit je warme bad dan ook écht in het tropisch regenwoud! Voor ons badkamerbehang geldt dat het altijd op maat gemaakt wordt voor een ruimte. Het behang is speciaal geschikt voor vochtige ruimtes: het blijft mooi & kleurvast en is scheur-, kras-en stootvast. Speel ook hier met kleuren, je ziet dat bijvoorbeeld een roze handdoek er heel mooi bij past.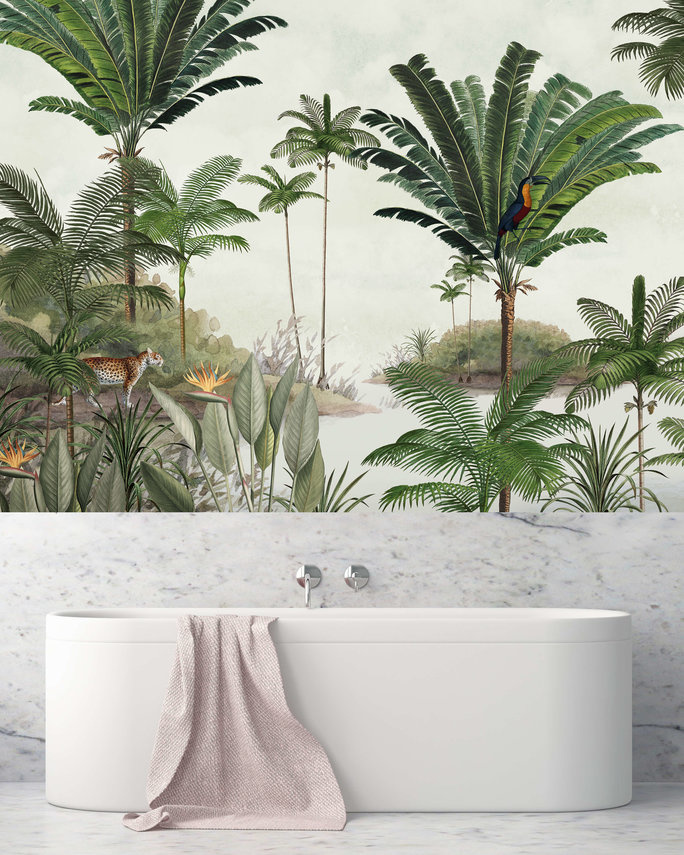 Rainforest Stationery
Wij kregen geen genoeg van dit design, en gebruikte het ook voor onze kaarten en notebooks. Verschillende wenskaarten met Happy Birthday, Get Well Soon (in verschillende talen) en een blanco dubbele kaart om het voor elke gelegenheid te kunnen gebruiken. De notebooks zijn goed te combineren met veel andere items, zoals deze schriftenset en onze Back 2 School collectie.