Which wallpaper fits which rooms?
Do you see a design that makes your mouth water but think "where will this fit in my house?"
This question is commonly asked by our clients and our answer is: "Everywhere!"
A great example is our 'Rainforest wallpaper.' This design speaks to the imagination of every room and fits many different atmospheres in the house. The design has large elements to it, which allows it to fit in both large and small rooms. Our jungle and tropical wallpapers come in different designs with various types of trees, plants and animals. Choose your favourite design and let your imagination flow, that is how we want to inspire you and what we love doing!
See the result of using this design for a cosy sitting area here:

Living room or sitting room
With stylist Kim Timmerman, we created this cozy sitting area in a living room as an example of a comfortable corner where you can read a magazine with your coffee or tea. 
Kim: "I saw this camp bed a long time ago at Cin In Wonen. I had wanted to use it for something for so long and then I saw this wallpaper! A perfect match! A fieldbed with lots of plants and cushions and a camera; you imagine yourself in a rainforest somewhere in Costa Rica. The natural tones of the wallpaper are also reflected in the set. This wallpaper is really my favourite; I love these colours, but also the feeling that the rainforest brings! The heat with shady spots and all the sounds that go with it...'
The jungle atmosphere is carried through into the room with the sisal rug, the wooden decorations and the various plants. The green accessories compliment the final look. The camp bed and small metal table are from Cin in Wonen. The plaid, cushions and vases are from Mrs. Bloom (for more inspiration check out their lookbook). The ochre cushions are from Atelier Sem.
Don't be afraid to play with your favorite colours! Here we used yellow as an extra colour, but there are many colours in the design that you can use in the accessories; the brown and orange of the leopard or the red or blue of the toucan. You can go wild!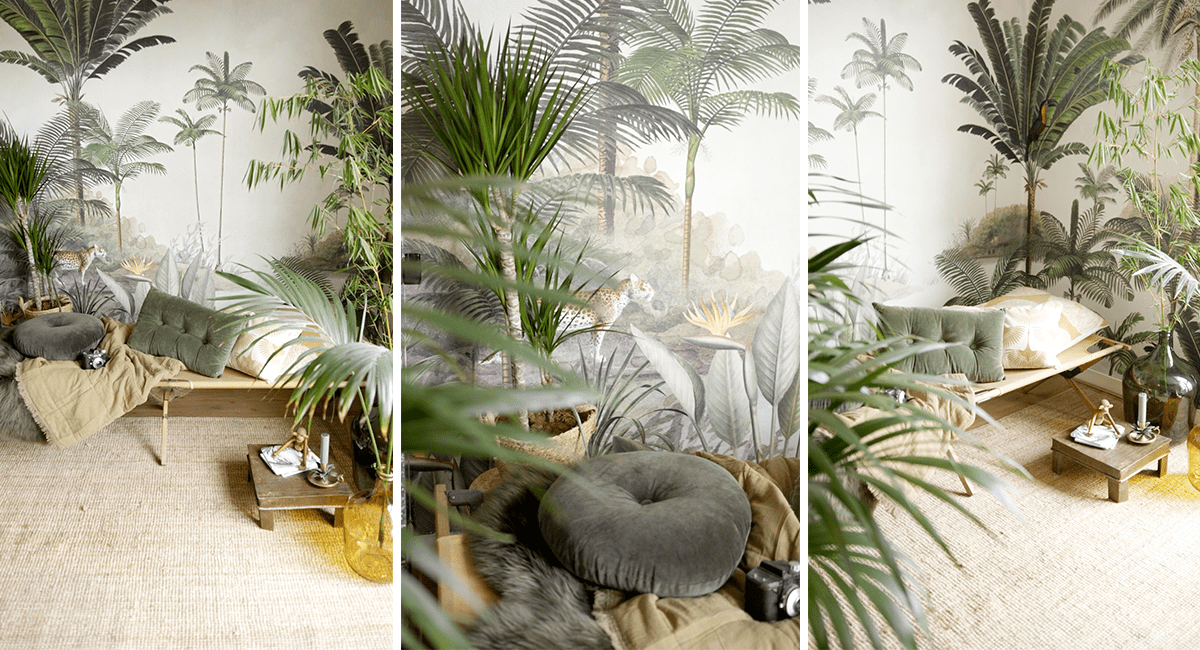 Bedroom
The jungle images on this wallpaper are certainly not out of place in a bedroom! We often see it on the walls of childrens rooms as well as in the master bedroom or guest room. Children love to admire the different animals in their room and often make up whole stories about it – allowing more creative play! They also learn what certain animals look like.
Creative Lab Amsterdam creates custom-made wallpaper, which can be entirely adapted to the dimensions of your wall. Our designers take into account any slanting walls or the furniture that will be placed against the wall. 
A mural is often chosen if the dimensions of the wall fit into one of the three standard sizes and if there are no irregular features, such as a door, a sloping wall or furniture against the wall that we must take into account. The height of the mural is always 280 cm and the widths are 194.80 cm, 292.20 cm or 389.60 cm.
Another option is to place a wallpaper circle on the wall. A wallpaper circle comes in three sizes: a diameter of 95, 120 or 142.5 centimetres, so that it can fit above a chest of drawers, bed or desk perfectly.


Bathroom wallpaper
The designs of Creative Lab Amsterdam are based on feelings and emotions; we want them to bring joy and energy. Looking at the Rainforest pattern, you can relax, imagining yourself in the tropical rainforest from your hot bath! Our bathroom wallpaper is always made to measure for a room. The wallpaper is especially suitable for damp rooms: it stays beautiful, colour-fast and is tear, scratch and impact resistant. You can play with colours here too, adding in a pink towel to both contrast and unite the wallpaper.


Rainforest Stationery
We couldn't get enough of this design so we also used it for our cards and notebooks! It comes in several greeting cards with 'Happy Birthday', 'Get Well Soon' (in different languages) and a blank card to use for any occasion. The notebooks are great to combine with many other items, like this notebook set and our Back 2 School collection.